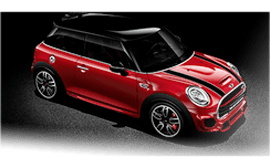 Street legal... ish.
2 litres. 4 cylinders. 6 gears. 228 horses. Catch your breath and say hello to the new MINI John Cooper Works- the most powerful MINI, ever.
Torque of the Town.
The next-generation John Cooper Works 2.0 litre Twin Power Turbo Engine delivers more pulse-pumping power than any other MINI, ever. It can race form 0-100 km/h in 6.3 seconds, and boasts a top speed of 246 km/h.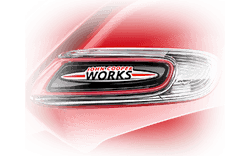 Jaw, meet floor.
Everything about the new MINI John Cooper Works demands your attention. If the Chili Red paint, aerodynamic bodykit, and dazzling LED lights set high expectations...then the throaty growl of the twin exhaust more than meets them.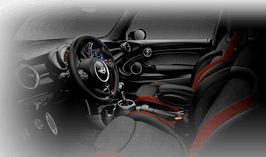 Over 55 years in the making.
Experience 55 years of relentless racetrack dedication and rally course success in the new MINI John Cooper WOrk's crisp throttle response, raw road-feel- and the fiery jolt of adrenaline in your bloodstream.